For a quiet New Year's Eve at home, I made this simple but exotic dish. The recipe comes from the
Princess Kaiulani Hotel
in Honolulu and appeared in a now out-of-print
cookbook
from Sheraton hotels.
Since we were having this as a main dish for four, I doubled the recipe. The large shrimp I bought were about 30 per pound. This is a fine size; you can go larger if you wish but I wouldn't go smaller.
I found that it takes much longer to prep the shrimp (even after peeling) than to fry them. Next time, I will do all the dredging and rolling before starting to fry. The shrimp fry very quickly. I used standard issue vegetable oil for frying. Getting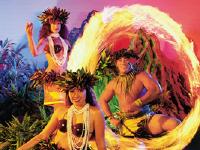 the temperature just right so the shrimp brown nicely is important. I didn't use a thermometer, but heated the oil until nearly smoking and then adjusted up and down as I did the frying. I used a large cast iron pan with enough oil to just cover the shrimp, and fried batches of up to 10 shrimp. For the doubled recipe, I would definitely use two pans next time. One reason is just to get it done faster, but I also found the oil got rather funky by the last two batches and really should have been changed -- the earlier batches were crisper and more attractive.
Bella handled the cocktail sauce. The recipe calls for standard cocktail sauce with crushed pineapple added. She went for something more interesting. Using ketchup as the base, she added dollops or spoonfuls (sorry no measurements -- do it to taste and substitute at whim) of hoisin sauce, grapefruit marmalade, pineapple juice and horseradish.
The shrimp were accompanied by jasmati rice and a green salad. The doubled recipe provided generous main dish servings for four. A single recipe would make a great appetizer for 5-6.
Shrimp Ono Nui (Coconut Shrimp)


recipe


1 pound large (raw) shrimp, peeled
½ cup all-purpose flour
2 eggs, beaten
3 cups shredded coconut

Dredge shrimp in flour, then in eggs. Roll the shrimp through shredded coconut, covering them thoroughly.

Deep fry shrimp at about 375º until they are brown. Drain on paper towels, then arrange on a platter.

Serve with cocktail sauce to which crushed pineapple is added according to taste.