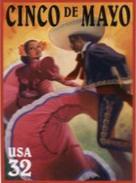 Learned a couple of things: I thought Cinco de Mayo was Mexican Independence Day. Turns out not. It commemorates a later battle against the French. Also, CdM is not that major a holiday in Mexico.
But in the US, it's not only big among those of Mexican heritage, but is becoming totally mainstream. In that spirit, I made a successful CdM dinner for the family.
Black Bean Soup with Chicken & Chorizo

recipe
2 Tbsp olive oil
1 medium onion, chopped
3 garlic cloves, chopped
1 canned chipotle, seeded and chopped
1 tsp ground cumin
1 tsp dried oregano
2 15 oz. cans, black beans, drained
3 cups chicken stock or broth
1/2 lb. fresh chorizo, sliced thinly
1/2 lb. chicken breast meat, 1/2" dice
2 tbsp lime juice
2 tbsp chopped cilantro (optional)
In a medium saucepan, heat oil. Add onion and cook until soft, about 5 minutes. Add the garlic, chipotle, cumin and oregano. Cook, stirring, 2 minutes. Add the beans and stock and simmer, partially covered, for 15 minutes. Coarsely crush some of the beans with a potato masher.
Meanwhile, heat a large skillet. Add the sausage and cook 3 minutes. Add the chicken and cook until chicken and sausage are cooked through (about 3 minutes). Add the meats, lime juice and cilantro to the soup. Season with salt and pepper. Simmer for a few more minutes.
Serve in bowls with sour cream for optional topping.
Quesadillas

recipe
1/4 cup vegetable oil
3/4 lb. poblano chiles, seeded and thinly sliced
3/4 lb. chicken breast meat, 1/2" dice
1/2 lb. fresh chorizo, thinly sliced
3 garlic cloves, minced
10 9-inch flour tortillas
1-1/4 lb grated Monterey Jack cheese
3 tbsp. ranchero sauce (optional)
salsa and sour cream
Chile filling: Heat 3 tbsp. oil in large skillet over medium heat. All chiles and cook until soft, stirring occasionally and adding a few tsp. water along the way if needed. Add garlic and saute 1 minute If you can't find poblanos, use cubanelles or regular green bell peppers.
Chorizo filling: Heat large skillet and add chorizo. Cook until done.
Chicken filling: Heat 1 tsp oil, add chicken and the ranchero sauce (or salsa). Cook until done.
These fillings will make 2 each chile and chicken quesadillas and one chorizo. You can mix fillings or make some cheese only quesadillas; however you prefer. My family prefers the chicken, so you can choose to make just that by increasing the amount prepared and skipping the chiles and sausage, and so on.
Heat 2 tsp. oil in a large heavy skillet over medium-high heat. Add one tortilla. Top with 1/4 lb. cheese, spread across the tortilla. Add filling and top with another tortilla. Cook until bottom is brown, 2-3 minutes. Turn quesadilla over. Cook until bottom is brown and cheese melts, 2-3 minutes. Watch carefully to make sure you don't burn.
Transfer to cutting board and cut into 4-6 wedges. Transfer to platter. Serve with sour cream and salsa. I use two skillets to make 2 at a time.
May 5 was also my father's birthday. He was a public relations practitioner and founder of Press Agents Shining Hour, which takes place every May 5 from 3:15 - 4:15 pm local time.