Two great institutions were founded in 1888. One is the one I work for,
The National Geographic Society
. The other is
Katz's Delicatessen
on New York's Lower East Side.
I first enjoyed the pleasures of Katz's with my friend Barry when we were teenagers more than 35 years ago. I visited again last week and invited some industry friends to meet me there. It is set up cafeteria style. You go to the counter, and a counterman makes your sandwich. Tipping, once done on the sly, is now encouraged. A sign dating to W.W.II urges you to "send a salami to your boy in the Army" (in New York, that rhymes).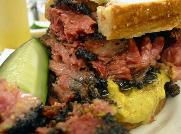 I always have a hard time choosing between corned beef and pastrami. Since Henry and I got there early, I had a hot dog appetizer while pondering the selection. Once our friends had arrived, they lined up behind me. I went for the pastrami, piled high on rye with mustard. The counterman gave me a generous plate of sour and half sour pickles and pickled green tomatoes. I helped myself to a plate of sauerkraut, and bought some potato knishes and fries for the table. Sipped first on a Dr. Brown's Cream soda, and still thirsty, followed with a Dr. Brown's Black Cherry. Regina enjoyed something I hate, but Barry always loved, Dr. Brown's Cel-Ray. Yup, celery soda.

Regina brought the table a classic New York black & white cookie to share. On Seinfeld, Jerry said,
"Oh look Elaine, the black and white cookie. I love the black and white. Two races of flavor living side by side. It's a wonderful thing isn't it?"
This was Shane's first dinner ever in New York. I told him he hit the jackpot -- few places are more unique to NY than Katz's. He unwittingly had a taste of tongue. I think he found it "interesting." I find tongue too rich to have by itself, but sometimes have a combo with corned beef.
I'll forgive Sandy for having a hot dog with relish and ketchup instead of the
de rigeur
mustard
and kraut.
If you saw the movie
When Harry Met Sally
you've seen Katz's. Meg Ryan might have been faking it, but I've seen people with this look there:

"I'll Have What She's Having"