Skirt steak, or Churrasco Estilo, is one of my favorite cuts of beef for grilling. Unfortunately, in many parts of the country it's difficult to find. Best bet is a Latino market. I get mine in Northern Virginia when returning from Washington. I like to buy steaks that are about 2 to 2-1/2 pounds each. Skirt is often used to make fajitas. But I put a mojo marinade on it, grill and serve with a chimichurri sauce.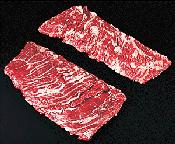 skirt steaks
Churrasco Estilo
recipe
Mojo Marinade
reci
pe
10 cloves garlic
1 teaspoon salt
3/4 cup sour orange juice*
1/2 cup minced onion
1/2 teaspoon oregano
3/4 cup extra virgin olive oil
Mash the garlic and salt into a paste using mortar and pestle. Stir in the juice, onion and oregano. Let sit for 30 minutes at room temperature. In a saucepan, heat the olive oil to near boiling and remove from heat. Whisk in the juice mixture until blended. This will be enough marinade for up to 6 pounds of meat.
*Sour orange juice is available in Latino markets, or as a substitute combine two parts orange juice to one part lemon and one part lime.
Marinate steaks in the refrigerator overnight and then grill on the barbecue. I recommend serving rare to medium rare. Since heat and steak thickness will vary, start by grilling 4 minutes on each side. Then take the temperature with an instant read meat thermometer. Monitor every couple of minutes, and remember the meat will continue to cook a bit once off the grill, so take it off when it's not quite done to where you want it. Transfer steaks to a cutting board and let rest, covered with foil, for ten minutes. Slice against the grain 1/8 to 1/4-inch thick. Arrange on a platter and cover with Chimichurri, or put the sauce in a gravy boat or bowl and let diners apply to their own taste.
Chimichurri

8 cloves garlic
1/4 cup white vinegar
juice of one lime
2/3 cup extra virgin olive oil
1/2 cup onion
1/2 bunch flat-leaf parsley, stems removed*
dash of red pepper flakes
salt and pepper to taste

Put everything except the oil in a blender and "chop" until you have a thick mixture. Transfer to a bowl and whisk (do not use blender!) in the olive oil. Taste and add more salt, pepper, vinegar and lime juice as desired.
*Cubano style would call for cilantro, but I prefer the milder flavor of parsley, favored in Argentina.
This recipe adapted from
Three Guys from Miami
.