This is an easy-to-make salad that goes well with a variety of fun foods. It's served with falafel and kebabs at
Sticks
in Charlottesville, Virginia. Great with hamburgers too!
Cucumber, Tomato & Onion Salad
recipe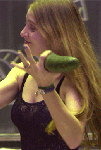 2 cucumbers, peeled, seeded and thinly sliced
(or one long seedless cucumber)
4 Roma tomatoes, halved lengthwise and thinly sliced
½ small red onion, thinly sliced
¼ cup light olive oil
2 Tbsp red wine vinegar
1 tsp salt
1 tsp black pepper
1 tsp white sugar
2 tsp dried oregano
Mix all ingredients together in a bowl and let marinate for at least an hour at room temperature.