I made up a Mexican-influenced rice salad this weekend to go with grilled St. Louis pork ribs with
Two Trees sauce
, savory chicken drumsticks and green salad.
Fiesta Rice Salad

recipe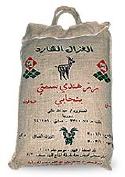 Cook 2 cups of white basmati rice (yields about 10 cups cooked) and spread out on a platter to cool. Put in a large bowl and mix in:
1/2 cup diced red pepper
1/2 cup diced celery
1/2 cup chopped green onions
1 15 oz. can corn, drained
1 15 oz. can black beans, drained and rinsed
3 teaspoons minced cilantro (optional)
Make a dressing with:
1 teaspoon salt
1 teaspoon ground cumin
black pepper
3 tablespoons rice vinegar
3 tablespoons lime juice
slowly drizzle in 3/4 cup extra virgin olive oil while whisking to make an emulsion
Stir the dressing into the rice mixture, cover and refrigerate for at least 2 hours, preferably overnight.
The flavor was pleasing but (intentionally) mild, so you may want to add more spice, or even some heat. I suggest you taste it and adjust as you are moved to do!
We had a lot left over, so the next night Bella added fresh tomato chunks and cheddar cheese to make it into a great one-dish meal.