In New York on business, I was with a colleague who went to high school with chef
Mario Batali
. He contacted Mario to get a reservation at his flagship restaurant,
Babbo
.
This was an amazing meal, and thanks to my friend Dan, three of us were treated to Mario's company during dinner and some great extras he served us.
Every element of every dish was exquisite, each new flavor a revelation, beginning with bruschetta topped with chick peas. Then Mario brought us two plates of
salume
, each with six or more types of cured meats. One plate had his creations and the other his
father's
. Mario's included a delicious salad of carmelized onions,
Cipolle Modenese
.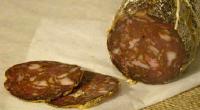 Armandino Batali's Mole
Antipasti we ordered were:
Marinated Fresh Anchovies with Watermelon Radishes and Lobster Oil
,
Grilled Octopus with "Borlotti Marinati" and Spicy Limoncello Vinaigrette
, and
Roasted Beet Salad with Ricotta Salata.
Mario also brought us mozzerella with tomatoes and basil. This was not your everyday
insalata caprese
. The cheese was the most tender and flavorful ever, and there were several varieties of basil. Mario topped this with his own olive oil.
For our Primo, we shared
Beef Cheek Ravioli
. But since we had been talking with Mario about how
gnocchi
tended to be heavy "bombs", he insisted we try his, which were light as a feather.
For our Secondi, Dan and I each had
Brasato ai Borolo
(melt in your mouth braised beef). Charlie had a signature dish,
Spicy Two-Minute Calamari Sicilian Lifeguard Style
. Evidently a particularly "spicy" lifeguard was Mario's inspiration. These were accompanied by wine from Mario's vineyard in Italy.
A selection of digestives was followed by espresso and
Chocolate Hazelnut Cake
,
Warm Blueberry Crostata
, an assortment of
Gelati and Sorbetti
, and raspberries and figs over
mascarpone
.
It was fun to listen to Mario and Dan catching up after nearly 30 years while enjoying the meal of a lifetime.